As a leading international company in the photovoltaic industry, we specialize in the service and maintenance of photovoltaic systems and components. Manufacturers, installers, insurers, banks and investors around the world rely on Suncycle.
With over 3 million components tested and repaired, Suncycle has unique industry experience.
We cover all service requirements of the solar industry, covering the entire supply chain. Our Engineering and Test Centres are equipped with the most advanced devices and our mobile service teams provide expertise wherever it is needed.
CLEAN ENERGY
SUNCYCLE SOLAR SERVICES
PROVEN EXPERTISE IN INDUSTRIAL SERVICES FOR PHOTOVOLTAIC SYSTEMS
your supplier of photovoltaic services
OUR COMMITMENT
Suncycle pursues a corporate strategy aligned with innovation and technological leadership, with a clear customer and market orientation. We always strive for excellence in technical solutions and processes through technological innovation and for these solutions to be economically profitable for our customers.
Our objective is to offer our clients competitive advantages through the quality, speed and profitability of our services. We incorporate in all our tasks the principle of continuous improvement. Our company philosophy is based on:
Cooperation between all employees, vertically and in an interdisciplinary manner.
A high level of employee qualification as the basis for an innovative and efficient culture.
Understanding our customers and their service needs.
Offering technologies and services suitable for the industry.
Striving for excellence through technological innovation and technical solutions that optimize our services.
Think innovatively and implement our ideas consistently and professionally.
Ensuring operational excellence on a daily basis through the reliability of digital processes.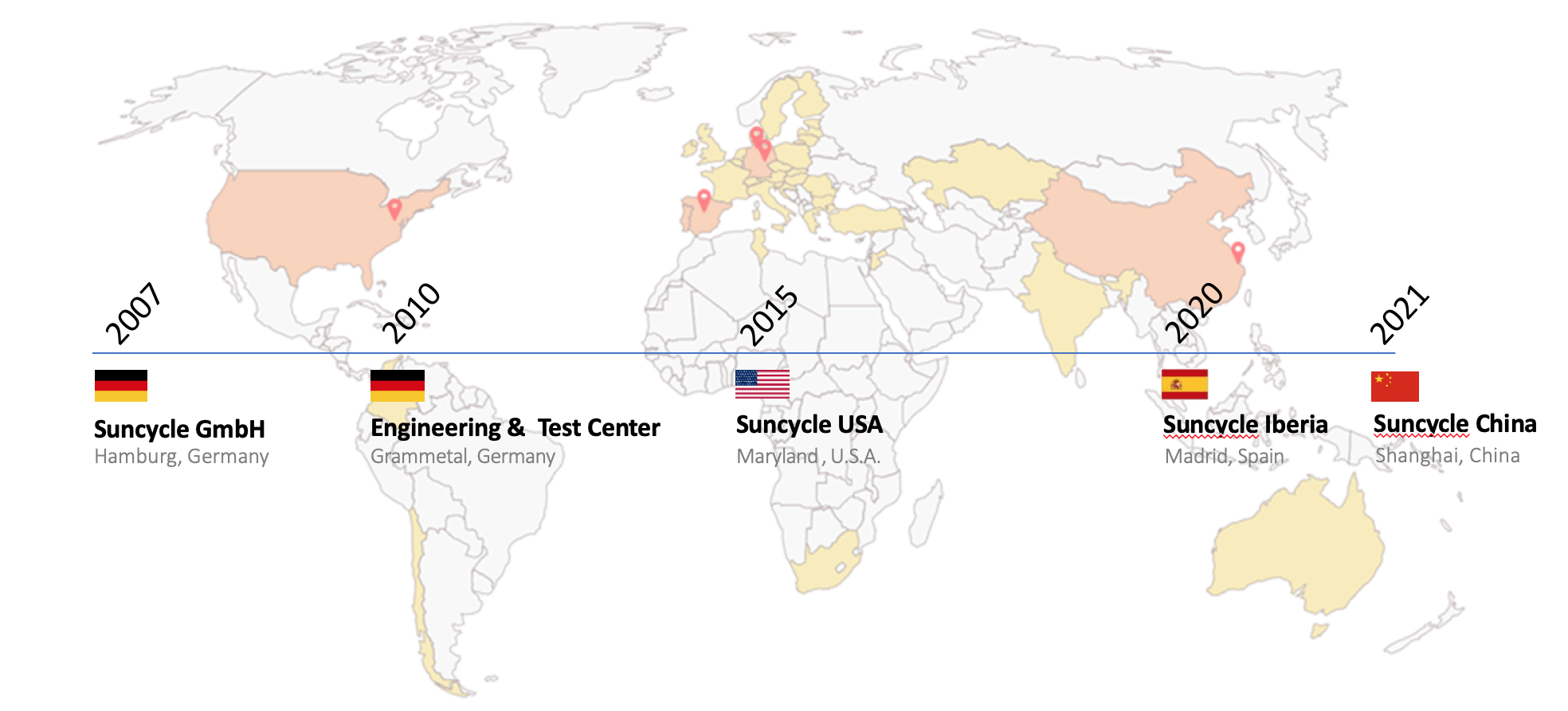 Suncycle's management team still consists of two of the company's founders. With 100% of our own financing, Suncycle is an independent and reliable partner – you can count on us!